Whether you're an Escoffier in the kitchen or not, a lot of us love to spend time watching cookery shows for inspiration or simply because we love tempting ourselves! And of course, particularly towards Christmas time, the TV channels are absolutely full of festive foodie programmes.
Here at Older and Bolder we're no exception and we also love imagining that we're going to be deftly juggling multiple cooking tasks with aplomb this festive season. And since we've managed to spend so much time watching these shows on the telly as we've been writing our Christmas cards, we've decided to write about our top 3 favourite celeb chefs that help us to get into the swing of the season.
Mary Berry
She's been whipping up tasty treats for as long as any of us can remember so you can't be surprised that we've included the legendary Mary Berry on the list. We have to say though that it's her sweet treats and baking that we really love her for and of course they are particularly welcome around Christmas time when one of our major pastimes seems to be eating.
Amongst our favourite festive recipes of hers, the ones that stand out for us are the winter crumble tart, mulled wine, and the mincemeat and orange tarts. She also has a great recipe for tart and tangy raw cranberry sauce which we recommend that you give a go this year! Thanks Mary, you've got our mouths watering already!
Delia Smith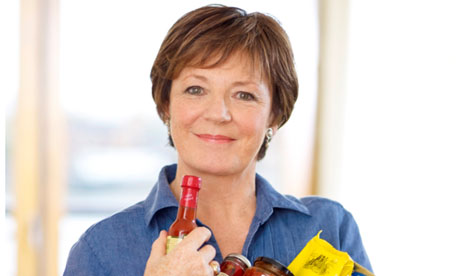 For no nonsense cooking with clear instructions, we're always going to love Delia Smith and since she taught a good chunk of millenials how to boil an egg, it's hard not to appreciate her. And if you find Christmas cooking to be your idea of a nightmare, then she can really help you to be as prepared as possible for it. She even gives an exact timetable to make sure that everything is kept running along smoothly in the run up and on the big day itself.
We recommend checking out big Delia if you have a tendency to panic, or basically want your Christmas dinner to be pretty much perfect. And if you know anybody that is cooking their first big family dinner, point them in her direction!
Nigella Lawson
Nigella undoubtedly brings sex appeal to the table when it comes to cookery programmes and with her sultry vocabulary, her relaxed approach to cooking really makes us love her. She doesn't mind cutting corners, she likes keeping things simple and she doesn't believe in scrimping on ingredients or calories meaning with her you're sure to create a sumptuous and crowd pleasing feast this December 25th.
She won us over with her shop bought Christmas cake that she decorates herself – a woman after our own hearts!
For achievable cooking ideas this festive season (sorry Heston), we recommend turning to these lovely talented ladies. You'll be able to pick and choose from great recipes that won't involve complex ingredients – that's Christmas dinner sorted!